Shelf life once tapped
4x750 ml/102oz Winery Fresh Delicious™
100% Recyclable
High Quality Wine from Spain and Italy...
Everything starts with grapes... fields of the highest quality grapes imaginable stretching beyond your line of sight.  When these tiny pieces of fruit are kissed by the sun and then fermented under the right conditions, we get a... damn good wine.   One that matches the end consumers' taste profiles and budgets.  
Our wines have excellent price to value ratios, are certified vegan and organic and use sustainable eco-friendly growing and processing methods.
EsComo Cab Blend
Spanish Red Wine 13% Alc. Vol.
The perfect blend of 80% Cabernet Sauvignon and 20% Garnacha creates a full bodied and well balanced red wine with notes of red berries and spices.
Ideal for game meat, grilled red meat, steaks, aged cheeses, pasta or lasagna with meat sauce.
For those who love a good rich Cab, this is the wine!
EsComo Chardonnay
Spanish White Wine 12.5% Alc. Vol.
This elegant wine has deep straw yellow color exuding slight floral and rich fruity notes, with a faint hint of almonds.  Soft on the palate, it's flavors are juicy and vibrant with a round mouth feel along with a very slight acidity, which balances out the wine's alcoholic warmth.
An excellent aperitif or paired with fish dishes or delicate meat!
iOlé® Sangriá
Spanish Red Wine 12% Alc. Vol.
From its humble roots in 15th century Spain, Sangria has grown to become a popular, refreshing party drink around the world.  In the United States, Sangria was first tasted at the 1964 World's Fair in New York.  iOlé® Sangriá is by far the most versitile cocktail made from red wine, grape juice and natural aromas.  Rich cinnamon, cloves and citrus notes.
No cane sugar added!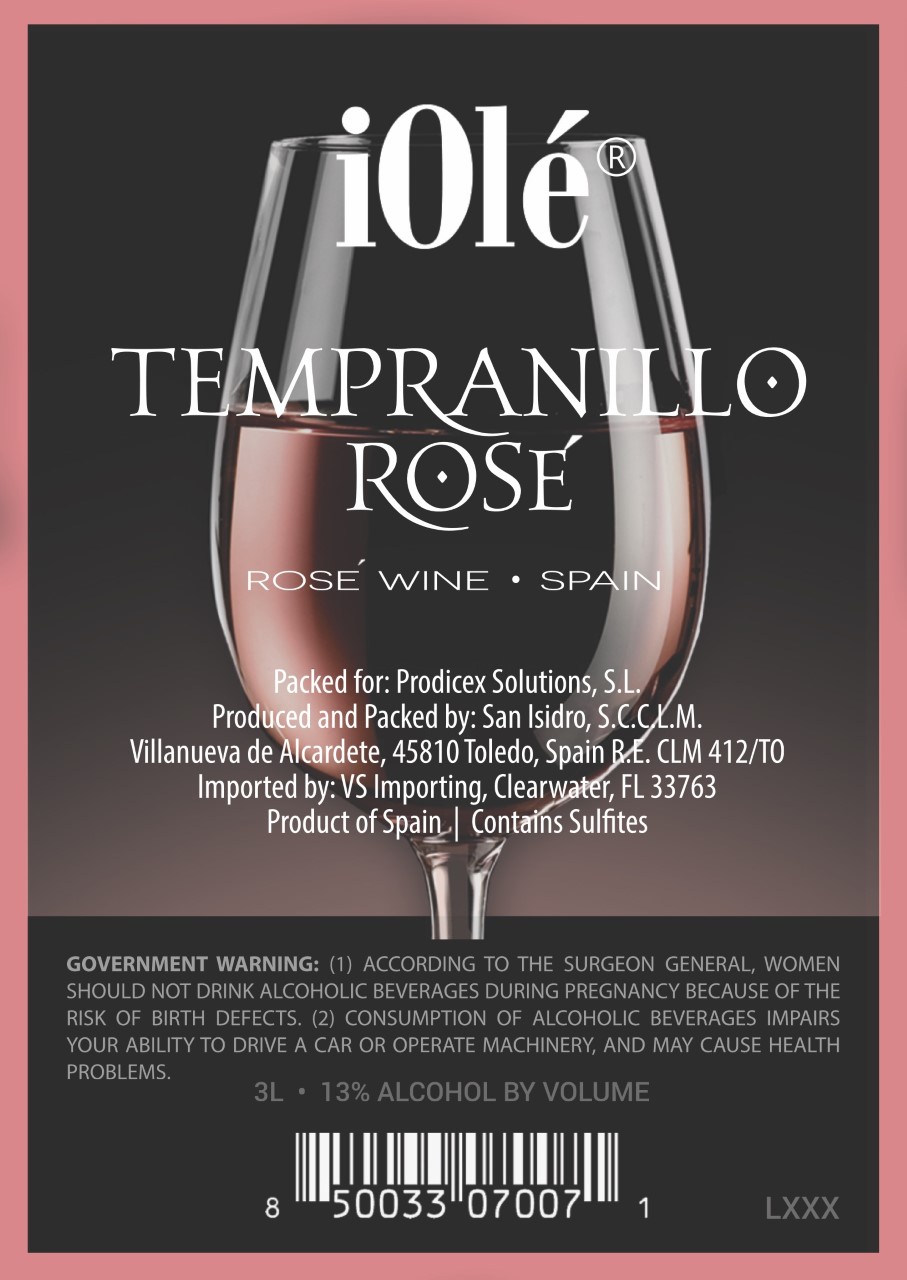 iOlé® Tempranillo Rosé
Spanish Rosé Wine 13% Alc. Vol.
Tempranillo Rosé is growing in popularity.  This style of rose has a pale pink hue and herbaceous notes of green peppercorn, watermelon and strawberry.  This rose is made from 100% Tempranillo Red grapes.  A glass of iOlé Rosé will class up any meal experience or is refreshingly tasty just on its own.  
Great with Tapas, smoked fish, carpaccio, sushi, seafood, paella and risotto!
iOlé® Tempranillo
Spanish Red Wine 13% Alc. Vol.
This is an intense wine, fresh yet silky, offering an explosion of fruity flavors such as ripe raspberry, blackberry and cherry.  It boasts a complex nose, with spicy notes, among them mint, cloves and tobacco.  It's finish is firm and persistent, with a refreshing acidity and touches of mocha.
It's ideal with sharp cheese, paté, barbeque meats, stuffing and poultry!
Red Wine, Product of Argentina
Net. cont. 3L/bag-in-box 12% Alc. Vol. contains sulfites
Very attractive ruby red color, with medium intensity.  With a young, fruit-forward expression, this wine has hints of fresh fruit such as plums, blackberries, figs and cherries.  In the mouth, it tastes very fresh, with sweet and delicate tannins.  Its acidity is superbly balanced, with a medium volume and a persistent finish that makes it so easy to drink.
Pairs well
This wine is ideal with sharp cheese, patè, barbeque meats and poultry.
Best serving: 60-65F technical information
Blend of Bonarda, Merlot, Tempranillo, Syrah
Acidity: 5.60 g/l | pH: 3.70
Hand-picked
White Wine, Product of Argentina
Net. cont. 3L/bag-in-box 13% Alc. Vol. contains sulfites
This crisp white wine has a vibrant yellow-greenish color and a beautiful sparkle.  Its nose hints of fresh fruit aromas such as green apple and citrus, balancing themselves with tropical fruit and white flowers.  In the mouth these flavors merge into this young, fresh wine with a vibrant acidity, which makes it so easy to drink.
Pairs well
This wine is ideal with veal, chicken, turkey, pork chops, halibut, smoked salmon; soft to semi-firm cow's milk cheeses such as triple-cream brie, gruyere, cream cheese and cheddar.
Best serving: 45-49F technical information
Grape varietal: Chenin Blanc
Acidity: 6.45 g/l | pH: 3.15
Hand-picked
Contact Us Today For More Information